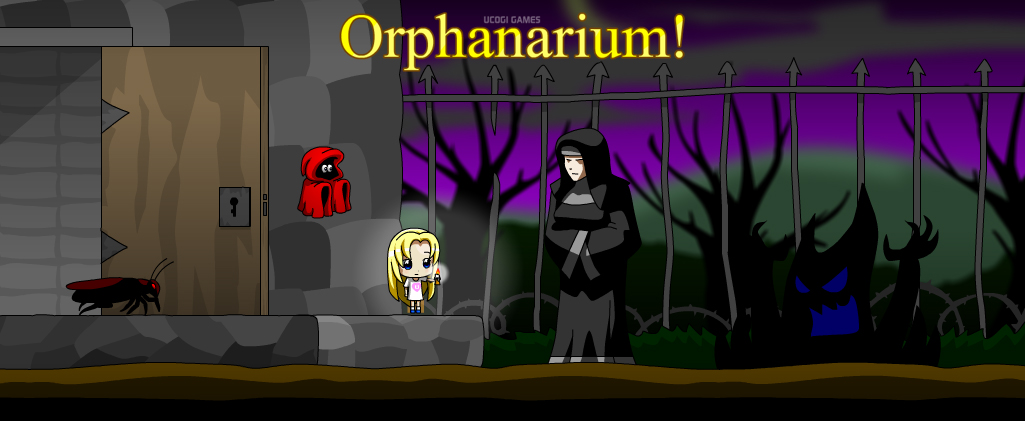 Orphanarium
A downloadable game for Windows
Story
Three orphans live in an isolated monastery, under strict rules and constant terror. One of them, Chibi Ucogi, decides to disobey the authority of the nuns, and try to save her friends from the actual Devil!

Superstitions, guilt and anger can distort anyone's way of thinking. Is Chibi strong enough to face her greatest fears? Or is the truth too much to handle?


Jam Awards
⭐ Ranked 1st in Most "Complete" Project
⭐ Ranked 1st in Visuals (Graphics)
⭐ Ranked 1st in Fun
⭐ Ranked 1st in User Interface
⭐ Ranked 1st in Sound/Audio
⭐ Ranked 1st Overall


Gameplay
Orphanarium is a compact Metroidvania game, where you search for items to progress further in the story. Controlling Chibi is very simple and easy; she just runs and jumps to avoid or defeat enemies.

The game contains animated cutscenes, secrets and multiple endings. So, it might take several playthroughs to find and destroy the elusive final boss!
The difficulty is mild, as there are no lives and every time you faint, you retry from the nearest door. Levels do get harder with each new item you acquire, but the real challenge is to find... peace!

If you have trouble beating this game, check the Ucogi Game Secrets!

Purchase
In order to download this game you must purchase it at or above the minimum price of $2.50 USD. You will get access to the following files:
Orphanarium (v2.2).exe
21 MB
Comments
Log in with itch.io to leave a comment.
Hello! This looks fun regardless, but just to make sure I have the right expectation going in, I have to ask for clarity... Does this have sexual content, or is it just cute and fun? :D
Hi! This game doesnt contain any sexual content. I try to be consistent and clear upfront, with the thumbnail not having +18 rate. The worse things you will see here is some blood, a bit of violence, religious images and magical items. It is a "cute and fun" game with many dark elements.

Really cool game man! A lot of work has been put into this and the characters are really cute! Also you added more endings which is really cool. I only did one playthrough but it was fun! In regard to improvement points it would be great to have full screen or change the resolution haha but that is really all! Awesome job bro! Find my video review below: (sorry for restarting a couple times lol)
55:20 Orphanarium
Thank you for taking the time to play and review my game! Sadly the resolution change is something that cannot be resolved unless the game's programming is redone from scratch. Or you could change the resolution of your monitor to make everything appear bigger.
Edit (2022): I did manage to make the game run in fullscreen!