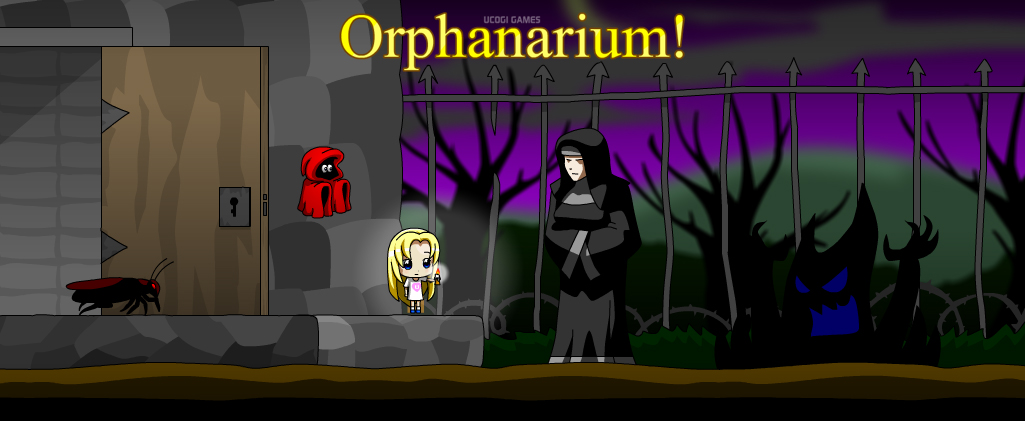 Orphanarium
Super Huge Mega Update! (v2.0)
---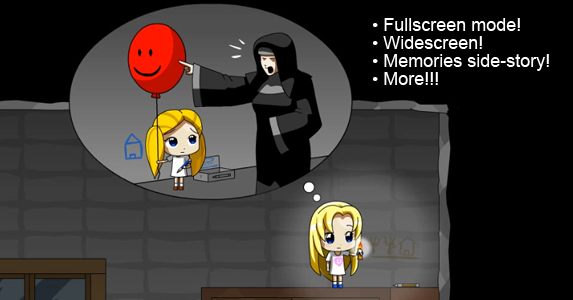 Orphanarium goes from version 1.55 to 2.0! The changes are so many and so big, that I had to categorize them! Let's start!!!
Major additions:
• Fullscreen!
• Widescreen! (16:9)
• A new side-story: Memory Markers!
• A seventh ending! (3 new cut scenes)
• Secondary controls

---------------------

General level changes:
• New screen limits in all levels (black outer boundaries)
• All levels have a mask so that no off-limits art is shown
• All levels have new shadows, gradients and details
• Added black objects to cover Chibi as she exits levels
• Stage limits are removed (because of fullscreen conflict)
• Vertical parallax added (due to stage limits removal)
• Outdoor buildings are taller (due to vertical parallax)
• Trees ground added (due to vertical parallax)
• The top of most stairs merges with the ground
• Embedded fonts

Specific level changes:
Kitchen additions:
• Added moon in the kitchen background
• Deleted artifacts above the Kitchen's left door
• Casseroles in the kitchen and hanging spoons
• A red towel that vanishes when the red ghosts appear
• Kitchen cauldron
• Kitchen's basement floor has a blue tint

Classroom additions:
• Windows details
• Shadows behind library, chairs, clock and columns
• Gradient behind stairs
• Trash bin and tallboy added

Dungeon additions:
• Blurrier fire in the dungeon
• Cage added in the basement
• New platform above altar and additional art Blue light exit
• New collision above door walls
Red levels additions:
• White ghosts blocking the red dungeon
• Red cave has bottomless gradient and different background
• Two marker drawings are distorted
• Roach on Nun
---------------------

Buttons update:
• Rearranged Main Menu buttons
• Buttons with links (veins.itch.io and secrets)
• All buttons have sound effects
• Warning text flashes
• Fullscreen button
Performance improvements (less slow-down):
• New parallax for all levels (due to stage limits removal)
• Fence has no parallax
• Fence behind buildings is deleted, in the nun garden
• Deleted garden trees behind buildings
• No blurry fires in Red levels
• New moon background and no blurry clouds
• Removed clouds from diner background
• Lighter wall paintings
• Wooden walls in/out of diner had too much detail
• Cave background changes (e.g. middle ceiling rock removed)

Re-centered art (due to new parallax):
• Character on camera
• Menu screen
• All cutscenes
• All transitions
• All endings
• All backgrounds
Various fixes:
• The game doesn't break when you resize the window (during gameplay)
• Rey the Reynard graphical glitch is now fixed
• Nun's collision doesn't touch the ground
• Chibi can't pass by the Devil without triggering his cutscene
• Garden grass by the cemetery door, to cover Chibi's light as she enters
• Some doors have shades and hinges
• Fainting nun cutscene has gradient background
• Cemetery grass is now taller (due to vertical parallax)
• Endings where Chibi runs: background bush loop (due to widescreen)
• Blue gradient in the cave's wall
• Screaming girls bubble appeared in the caves (glitch)
• Hazard hit-box was out of place in the middle session of the caves
• Each ending provides a unique hint
This version will be free during the Jam period, so please rate the game or leave a comment!