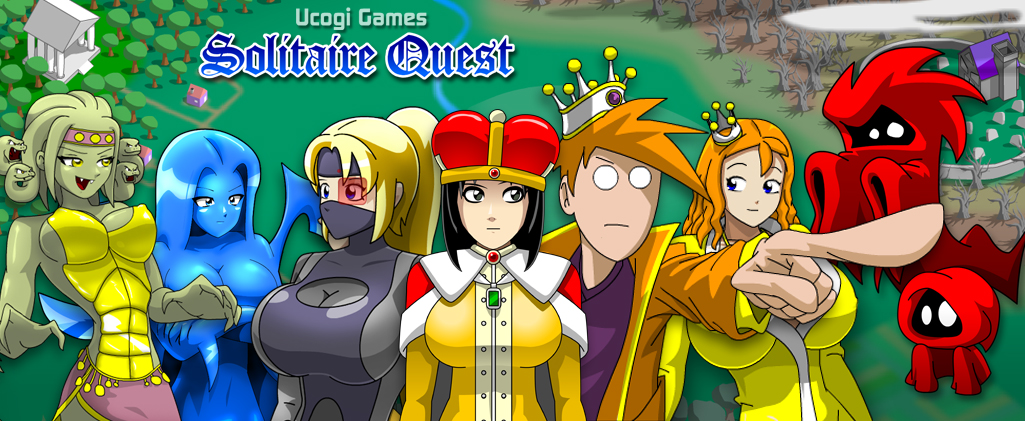 Ucogi's Solitaire Quest
A downloadable game for Windows
♥ Story
Ucogi visits the orphanage quite often, hoping to bring joy to the orphans. Even though she doesn't have much to offer, she loves seeing them smile. Which is something she couldn't do as a kid, during her time in Orphanarium.

This time she tells them a story, using a simple deck of cards. It is the story of a missing princess, and the High King's four armies that roam the land looking for her! Ucogi is influenced from her past: She mentions the ghosts she was afraid of as a kid, the MonsterGirls she fought and her closest friends, Alice, Rudy, Dedu and Irene. And if she is a bit harsh on Dedu's character, it's because he made a big mess in SuckerSuck! This game can be played by anyone, as it doesn't contain obscene art or foul language.

♥ Gameplay
Solitaire Quest is beginner friendly, as it has a tutorial to teach you how to play and it auto-saves each time you pass a new level.

During your play, you will meet all kinds of characters, from friends to foes, and each level will unlock a new deck of cards to help you progress with the plot. So, can you beat all 6 levels and find the Pink Princess? And can you uncover the secrets hidden in Ucogi's mind?

If not, check the Ucogi Game Secrets!
If yes, check Ucogi's real card games!


Download
Click download now to get access to the following files:
Ucogi Solitaire Quest (Demo).exe
7 MB
Ucogi Solitaire Quest (v2.3).exe
12 MB
if you pay $2 USD or more
Ucogi Solitaire Quest (v2.3).swf
7 MB
if you pay $3 USD or more
Ucogi Solitaire Quest (v2.3) (Flash Wrapper).zip
12 MB
if you pay $4 USD or more
Comments
Log in with itch.io to leave a comment.
Download isn't showing up after download now.
I was uploading a newer version (v2.2). Try again in a bit.
*Salutes*
Been here since the ol' days. Wanna chat on discord or something?
I'd love to ask about stuff.